*** NOTE:  Because WBCR is a small organization with few volunteers, we only adopt to families in Wyoming, Colorado, and immediately surrounding states.
The Adoption Process
Thank you for your interest in a rescued Border Collie! Please review the application process below before submitting your application. Please remember that every person working with WBCR is a volunteer, doing rescue in his/her "spare" time, so the first part of our adoption process (our reference checks and home visit) can take 2-3 weeks or longer depending on the dogs in our program. If you're unwilling to wait that long, we hope that you'll consider adopting a shelter dog in need, where the wait is much shorter.
Step 1:  Do your homework!
If you're considering/looking for your first Border Collie, please do your homework FIRST! While we think Border Collies are the greatest dogs on the planet, we equally believe that they're not the dog for everyone. Please read our "About BC's" page to begin learning more about Border Collies, their temperaments, needs and whether a BC is the right dog for you. 
Step 2:  Complete & Submit an Application
Please answer all questions completely; incomplete applications will not be processed. Our initial review of your completed application will help us decide whether we may have a dog for you. We know our application is long and detailed, but this information is very important to help us determine if you might be an ideal home for a certain dog in the program. The more information you give us, the easier it will be to do that. Please remember that our top priority is to serve the dogs, and to find the most suitable home for each of the dogs in our rescue. While we enjoy meeting border collie loving applicants, the interests of the dog come first.  We don't have many dogs in our program, which means a waiting game for many qualified applicants.
Step 3:  Reference Checks
Once we receive and review your completed application, it's assigned to a volunteer for reference checks – we will call the references listed on your application, so you're welcome to let them know that we'll be contacting them. This initial step typically takes 1-2 weeks, so please be patient!
Step 4:  Home Visit
Once the reference checks are complete & approved, a WBCR volunteer will contact you to schedule a home visit. This is an informal chance for us to get to know you, your lifestyle, home environment and determine which dog(s) in our program might be a great fit. The HV volunteer will discuss what personality traits you're looking for as well as general breed traits and what to expect when bringing a Border Collie home. He/she will also do a short walk-through of your home and yard to ensure its safety and to advise on any areas of concern. All household members must be present for the home visit. Please understand that the HV volunteer may not personally know any/many of the dogs in our program so may be unable to answer questions about specific dogs. Once the HV report is received by WBCR, it may take a few days for us to collate & review all of the information and get back in touch with you.
Step 5:  Matching/Phone Interview
Once an application is processed and approved, now comes the fun part! While it's easy to fall in love with a picture, it is the dog's personality & temperament that determine whether it may make a great match for you. During the matching process, a WBCR adoption coordinator will contact you to discuss specific dogs within our rescue. We strongly encourage applicants to write down questions they may have about Border Collies, and discuss these questions with the assigned coordinator. We work hard to match your desires with the traits and personalities of our dogs.
Please understand that we only want what is best for our dogs, so if we don't think a specific dog is a good fit for you, we're not passing judgment on you/your family but are drawing on years of experience with Border Collies, and, more importantly, experience with the dogs in our program. "First Come First Served" doesn't apply here as we match each dog in our program with the most appropriate home for him/her, whether that home comes next week or next year!
Step 6:  Meet(s)
Once we've talked with you on which dogs might be a suitable fit, it is time to set up a meet/meets! Your adoption coordinator will facilitate arranging a meet with your household members, your current dog(s) and the rescued dog. We have experience introducing new dogs, so will help with the introductions of your dog to the rescued dog if applicable. During the meet, keep in mind that rescued Border Collies may be rather aloof/timid at first meeting. While we have seen many meets where there is an "insta-bond" between the new dog and the adopter(s), many times that kind of bonding takes time. The meet is a great time to get any/all questions answered on the dog's temperament, likes/dislikes, and what will be helpful in establishing a wonderful relationship with your new dog!
Step 7:  The Adoption
If both you and the WBCR representative feel the dog is a great match for you, the adoption may be completed after the meet. An adoption contract must be completed, signed and the adoption fee paid to complete the adoption. Please review our contract before your meet; it is available on our website or by clicking here. Please note that if at any time during your rescued dog's life you cannot/no longer wish to keep it, he or she is required to be returned to WBCR.
Step 8:  Follow-up
To ensure a successful adoption, we have a network of volunteers happy to answer any questions/help you work through issues that may arise while your new dog is transitioning into your home, or ten years down the road! We are committed to each and every dog we rescue for the rest of his/her life, so please stay in touch with us. Plus, we love getting updates!
Adoptable Dogs
Boo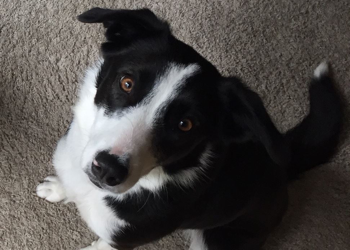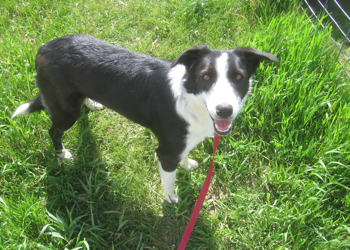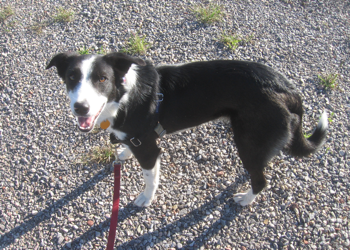 Female
Boo is a sweet and spunky girl who is always ready for an adventure!
Boo came to WBCR from a shelter in southeast Wyoming, and is now being  fostered in Fort Collins, CO. She is spritely, black and white (actually seal colored, she has brown underpants!), and smooth coated,  which is code for easy to care for! She is approximately 1 ½ years old, and is everything you'd expect from an adolescent Border Collie.  She has the funniest personality, and loves to play! Boo is looking for a home who understands how to help a young Border Collie figure out the world, and can give her a job. She has loads of potential for  a variety of dog sports, and is food and toy driven, so she'd be a dream for someone who loves to train dogs!
Like a lot of Border Collies, Boo is a little unsure about new people,  but it doesn't take her long to warm up. She really loves her human friends, and is affectionate and cuddly. She also loves canine friends! We've decided that Boo definitely needs a playmate in her new home, as she absolutely loves playing with other dogs. She would do well in a multi-dog family, currently living with 3 other dogs with ease. She speaks dog very well, and has met several other dogs outside
her foster home that she did well with. If she can meet off-leash, she is very appropriate with new dogs. She does need to be supervised with resources like chew toys, because she thinks it is very funny to try to steal things from other dogs who might not appreciate that very much! Boo has a very high prey-drive, so is probably not appropriate for a house with cats or other small animals. She does enjoy walks and hiking and trotting alongside a bike, and is learning how to swim, too.
Boo is a moderate energy girl with a fantastic off switch. She can really chill, and has terrific house skills. She has never eliminated in the house, and will whine at the door if she needs to go out. She is happy to chew on a bone, or sleep on the couch for a good portion of the day, provided she gets her mental and physical exercise requirements met. She is very comfortable in a crate, though she will bark if she hears something, she seems to settle down more quickly in a crate than when loose. She is happy to sleep in a crate at night, but she also is a great snuggler in bed. She is a great traveler, and is easy on leash when there aren't people/dogs around, or when she is in training mode (she pretty much always pays attention when there's food available!)
Boo loves to learn, and the sky is the limit when it comes to her capabilities. She is athletic and fast and physically confident. Boo needs a home that can give her some guidance for a few things she struggles with. The good news is she is extremely responsive to training, and is already improving on these things in her foster home. She can be reactive, meaning she will bark and/or lunge, toward dogs and people when she is on leash. This is because she is a frustrated greeter, and didn't learn how to greet appropriately on leash. She is very friendly with both dogs and people, and when she can't get to them she gets very frustrated! She is working hard on learning better greeting skills in her foster home, but will need continued training to help her keep up those skills. She struggles with greeting guests in the home, and will get herself in a barking frenzy if she's surprised by someone she doesn't know. However, she does quite well if
crated when the person comes in, and she comes out to greet them once she settles down. With some work, she should be able to learn to greet guests appropriately.  She also alarm barks at noises she hears outside the home, mostly those that are different than normal. Her
foster family lives in a fairly noisy neighborhood, so she's getting lots of practice at being quiet when she hears startling noises. The good news in all of this is that she is very easy to redirect, and if you keep her focused on a task, she is easily managed.
All in all, Boo is a super little BC in a pint-sized package. If you are looking for a dog who is ready for adventure, and you don't mind helping her navigate some of her social faux pas, this dog will be everything you could want and more in a partner!
Currently fostered in Ft. Collins, CO
---
Buddha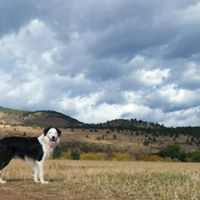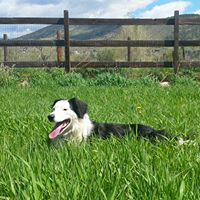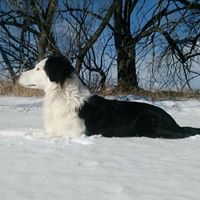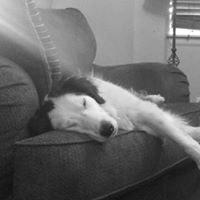 This flashy boy is Buddha, and he's not just a pretty face! He is all BC – super bright, very interested and aroused by movement, high energy. Buddha originally came into WBCR a few years ago with an injured leg. He was adopted by a long time WBCR volunteer. Unfortunately, life has taken some very unexpected turns and so Buddha is looking for a new family to love. Buddha is now four years old. He has lived peaceably with female dogs and a dog-savvy cat, but does not do well with male dogs in a home or out in the world. He will require a BC experienced, savvy and aware home who can channel his instincts and energy into appropriate outlets, offer him guidance and direction, and who will commit to providing mental and physical stimulation for this boy daily. If you are looking for an intense, driven BC package, Buddha may be the one for you!
Currently fostered in Boulder, CO
---
Echo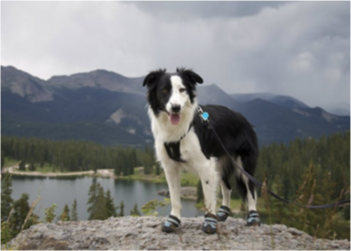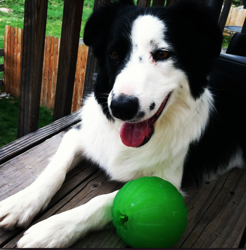 Beautiful Echo, like True, is a holdover from before WBCR closed in 2016. Like True, she remained with a foster family all this time. She is now ready and looking for her forever home, where she can be cherished. Echo is a special girl who will require a special family: she is fearful and reactive towards unfamiliar people, and like many female BCs, can be touchy with other dogs, although with careful management she peaceably cohabitates with several other dogs in her foster home. She loves her human friends and she is a total ball-a-holic. She's got all kind of skills – housetrained, crate-trained, basic manners – and she's not a super high energy girl at all. Echo will require a savvy, experienced owner and a quiet situation, but we know the right family is out there for this glamorous girl!
Currently fostered near Casper, WY
---
Jack – Adoption Pending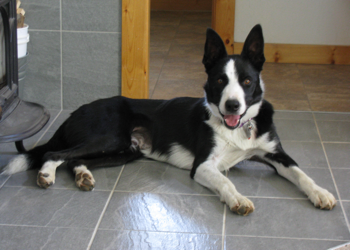 Male
Jack is a magnificent dog, a leggy and lean fellow.
We are still getting to know Jack, more info coming soon.
Currently fostered in Cody, Wyoming.
---
Jade – Adoption Pending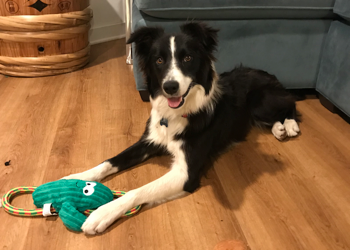 Female
This pretty little 8 month old was surrendered for wreaking havoc on livestock at a Colorado ranch. She was living as an outdoor dog but is quickly getting used to indoor comforts. Like toys!!!!!! We are still getting to know her, more info coming soon.
Currently fostered in Denver, CO.
---
Liam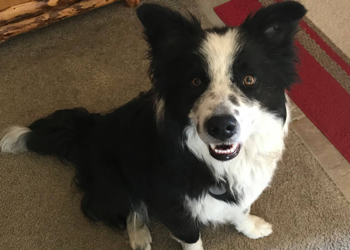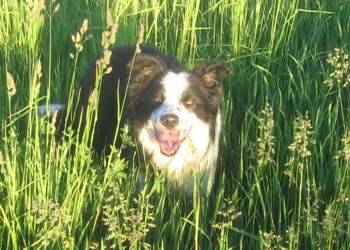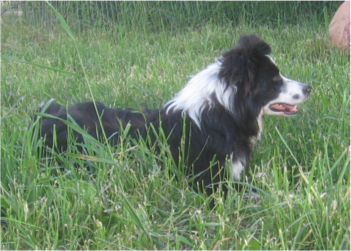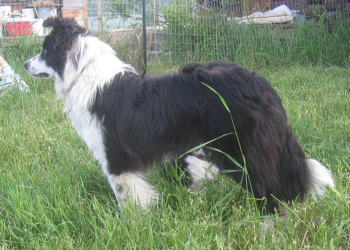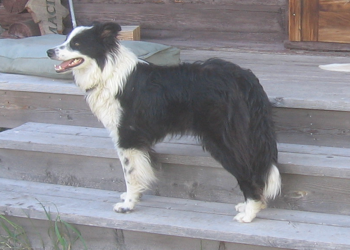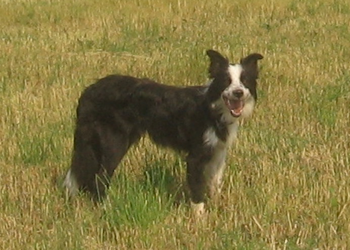 Male
Looking for a Border Collie filled with potential? Meet Liam. This classic, super rough coated boy is just a year old – he's still just a pup – and will definitely need a family committed to working with him to help him become a super canine citizen. He's quite a promising prospect for a hobby herder or working home – his initial test on sheep was impressive. But he'll also make a wonderful companion given his levelheaded and pretty easygoing temperament, with just enough spark. He's very social with people, really good with other dogs (interested in playing some with those willing, but definitely knows who to leave alone), and eager to learn. We just can't say enough good things about this young lad. He's just so easy to get along with! He'll make a great active companion and already loves to trot alongside a bike. He's also just starting to discover toys. He will need someone to work with him on basic manners (polite greetings, coming when called amid distraction, sitting for doorways, etc) but what young dog doesn't? He's also a little too interested in sudden movements to be a safe bet in a home with small kids, and will likely need some work to learn to leave livestock alone unless he's invited to work. But an investment on those fronts will reap great rewards. Liam is going to prove to be the companion of some Border Collie lover's dreams.
Currently fostered near Jackson, WY
---
Lucas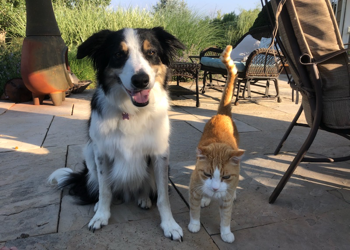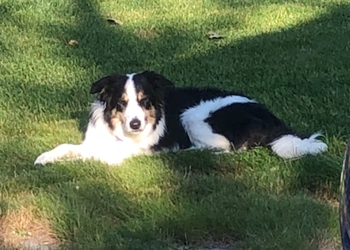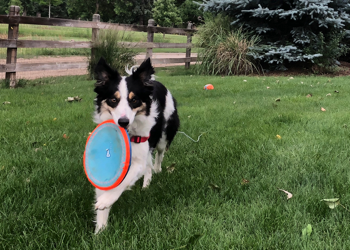 Male
Lucas was absolutely terrified at the shelter, but once landed in foster care was happily playing frisbee that afternoon! This handsome tricolored fellow has a lovely disposition, too. He is a sweet fellow who has lived with cats and seems comfortable with the other dog at his foster home. And he loves to play frisbee! More information soon!
Currently fostered in Boulder, CO
Luna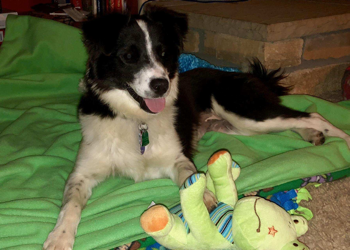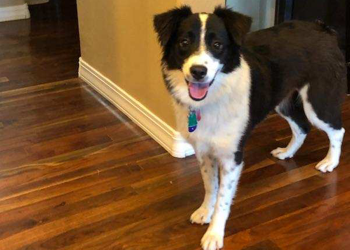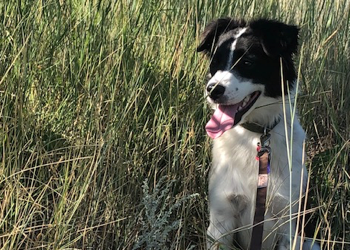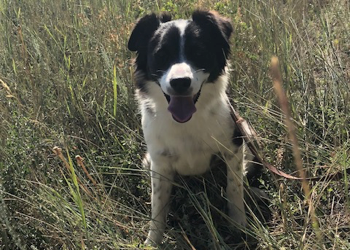 Luna is a beautiful young girl, rescued from a Texas shelter. She is a
social, happy little lass! We are just getting to know her, more info
coming soon.
Currently fostered near Denver, CO.
---
Rio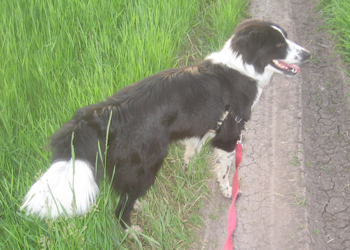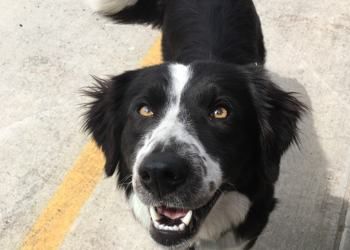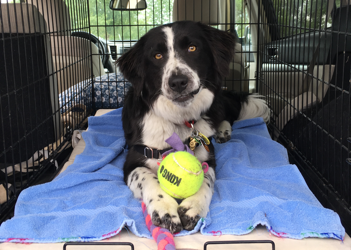 Female
Rio is a bouncy, friendly, happy, beautiful girl about a year old who loves to play fetch and trot alongside a bike. She's a perfect size at under 40 pounds and has a lovely soft rough coat with a magnificent tail. Rio's got great potential as an active outdoor companion or dog sport candidate.
Rio has recently arrived. We are still getting to know her and will post more soon.
Currently fostered in Ft, Collins, CO
---
True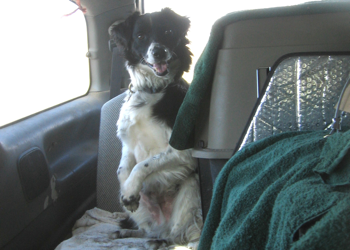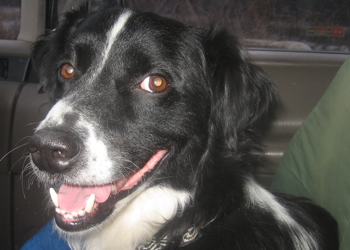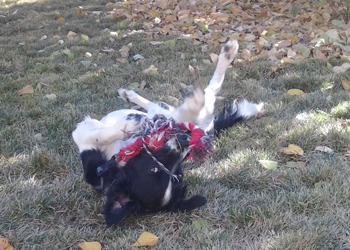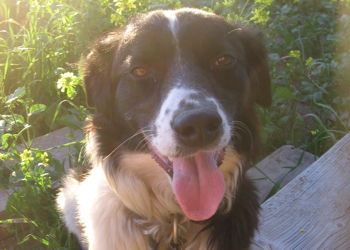 Male
This is True. He's an incredibly special little Border Collie. Born with deformed front legs and an irrepressible spirit, his smile can light up a room. True loves nothing more than meeting people and spreading happiness. Being a shop or office dog would probably be his dream come true. He adores kids, is great with other dogs, gets along with cats, potbellied pigs and livestock, and has become a registered therapy dog. He enjoys walks, occasional hikes, and loves toys and the snow. He thinks visiting his foster mom's brother's family, with two kids and lots of people coming and going, is fabulously fun. True's perfect family is out there, and if you are looking for an incredibly special little guy who brings joy to everyone he meets, we'd love to hear from you.
Currently fostered near Jackson, WY
---
Vinka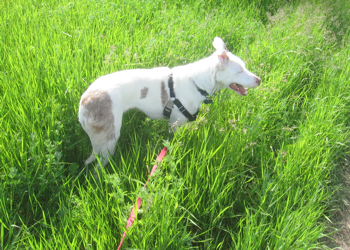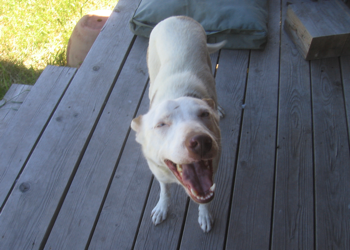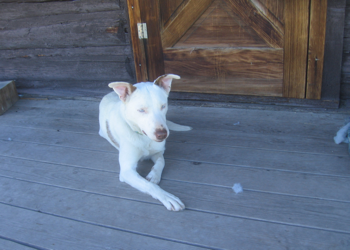 Female
Now available….darling Vinka! Just a meek little thing a few weeks ago when she arrived in foster care, Vinka is really blossoming. She is now full of wags and smiles and excited woo woos, is starting play with the other dogs, runs happily around at her foster's place, and is starting to show interest in those mesmerizing creatures, sheep. This little girl seems to be the victim of Border Collie breeders seeking color…she's a dilute red merle with blue eyes. The good news is, she doesn't seem to have any hearing or sight deficit typical of this coloring. While she is still quite timid and noise-sensitive, Vinka is well on her way to growing into a happy, confident dog. She adores people of all ages and is drawn to them wherever she goes…she's a leaner and a kisser and a total love sponge. She's cratetrained, housetrained, rides well in a crate in the car…she's a joy to have around. Vinka is going to need adopters who understand underconfident dogs and how to help them, and who enjoy helping timid dogs grow…but she is going to be well worth the time and patience.
Currently fostered near Jackson, WY
Dogs Not Yet Ready for Adoption
Chase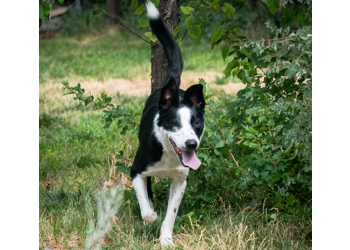 Male
Chase recently arrived from a shelter in Montana who asked WBCR for help. He's just a year and a half old – bright, friendly, and good with other dogs – and definitely requires the guidance and direction a young BC needs! We are still getting to know Chase, more info coming soon.
Currently fostered in SLC, UT
---
Dex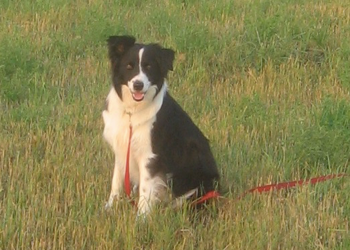 Male
This classic BC is Dex, and we guess he is 4 years old, maybe even younger. His elderly owner passed away, and family did not step up to help, so he landed in a shelter in Utah. Understandably, he was very, very scared and defensive. Although he will warm up to people, it takes him some time to trust – once he does, he's all yours! 🙂 Dex is super bright but seems to have little experience with other dogs or cats. He will need an understanding and patient home experienced with helping fearful dogs blossom. In the right hands, Dex will grow to be a marvelous canine companion. We look forward to getting to know Dex! More info coming soon.
Currently fostered outside Jackson, WY
---
Jade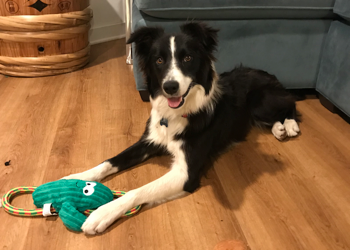 Female
This pretty little 8 month old was surrendered for wreaking havoc on livestock at a Colorado ranch. She was living as an outdoor dog but is quickly getting used to indoor comforts. Like toys!!!!!! We are still getting to know her, more info coming soon.
Currently fostered in Denver, CO.
Courtesy Listings
---